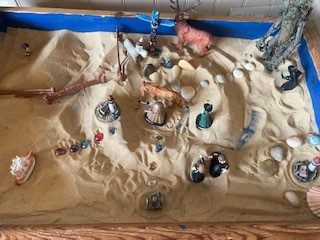 Dates:
Saturday 21st and Sunday 22nd May 2022
Saturday 11th and Sunday 12th June 2022
10.00am – 4.00pm

Location:
Rawson Hall
Bolney
West Sussex
RH17 5PF


Price:
£500

LIMITED TO 20 DELEGATES

Using sand and small world figures in the counselling room can be an adaptive and flexible way of meeting the client in a more creative and visual manner, which some clients may be drawn to and may find healing, alongside the process and their relationship with their counsellor.
Sand tray work often is effective in overcoming client resistance and can create powerful narratives that allow clients concerns to be seen and understood in a way a client may not be able to access with just words or may feel too vulnerable to try to express in words.
The sand tray is a safe place for exploring pre-verbal, conscious and unconscious expressions of feelings, sense of self or lived experiences. Clients may use miniatures to hold a symbolic narrative instead of directly dialoguing their stories.
Sand tray work is cross-theoretical and this short course is open to counsellors of all modalities who would like to find out more about using sand tray and work towards a greater understanding to enable them to use it with knowledge and understanding within their work.
Our 2 weekend CPD course will cover the theory of sand play, symbolism from Jungian psychology and its humanistic application. It will include theory and experiential work and we will provide a warm, inviting and relaxed environment within which to learn more and experience this powerful healing medium.
Our 4 days together will include working with sand trays as a tool for the following: helping to heal the psyche; within supervision; community healing; dream time and personal insight. There will be a blend of theoretical ideas, practical sessions, group discussions and personal and professional experiential work.
All equipment will be provided but please bring a notebook, pen and playful disposition !
This course is being held in a very large, beautiful hall in Bolney, West Sussex. We have access to the field directly behind the hall and use of a kitchen and café style area for our breaks. We are therefore opening this CPD course up to  20 participants as we will have the space and imagine this will be a popular course.  It is a lovely new venue for CBCT Ltd and we are looking forward to seeing you there.
Cost: £500
Course Dates:
Saturday 21st and Sunday 22nd May 2022
Saturday 11th and Sunday 12th June 2022
Please fill in the booking form and our admin assistant will contact you with the payment instructions by email.
Whilst we appreciate fees being paid in full at the time of application to the course, we understand that this is not always possible, therefore payment can be made in instalments.
If you wish to pay in instalments the deposit of £200 should be paid upon application.
The remainder can be paid as follows:
14th March 2022      £100
15th April    2022      £100
16th May    2022       £100
Dr. Carol Lloyd (NNEB, Dip.C, B.ED Hons, MA, PhD)

Dr Carol Lloyd is a Senior Lecturer at Chichester University and a psychotherapist in private practice with over 30 years' experience in various private, voluntary & statutory organisations both educationally and therapeutically.
As a school teacher Carol was the co-ordinator for Personal, Social and Health Education and Religious Education KS1-2 and taught across these key stages and trained alongside this role in Humanistic psychotherapy.
Moving from early years teaching into further education Carol worked as a Childcare and Education course leader and lecturer, including teaching on Higher Education level Early Years courses and was keen to encourage and foster practitioners who believed in my core philosophy of child centred and humanistic approaches to learning and development.
Carol has worked at the University of Chichester for sixteen years in both counselling and childhood studies and developed her skills through creating and co-ordinating a Foundation Degree in Early Childhood and a BACP CYP course, whilst completing her MA in Transpersonal Expressive Arts and Practice (Somatic art psychotherapy) in 2009 at Chichester.
In 2013 Carol began her PhD research at Essex University and researched children's dreams in the context of sharing dreams within British schools as part of the social and emotional curriculum and completed her PhD this year (2021). Carol's research studies were underpinned by the psychology of psychoanalytical work by Carl Jung and it is from this psychology that she bases much of her work on sand play with adults and children.
Carol has a passion for developing 'creative potential' and in particular the use of creative arts in psychotherapy and healing and has researched the power of creative arts in healing within palliative care and continues to be involved in creative projects.
Lunch: This break will be approx. 45 minutes. We suggest you bring a packed lunch and maybe a cold drink.
Morning break: Teas, coffee, biscuits and fruit. Afternoon break: Tea, coffee and Cake