Meeting Paul our Admin Assistant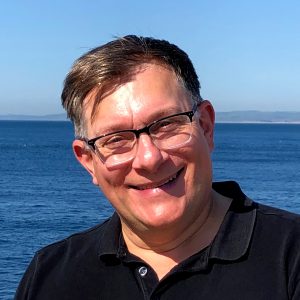 Pleased to introduce you to Paul Thurtle our Admin Assistant. Paul joined the team at CBCT recently and is busy working behind the scenes updating and modifying our systems, including taking booking interviews online which has been an absolute godsend!
We love that Paul shares our passions for counselling and for helping our learners and colleagues efficiently and with that lovely smile on his face. All new enquiries go to Paul now and he's building waiting lists for our courses on a daily basis at the moment. He's been very busy!
Here's a few questions and answers to help you get to know Paul a little.
What motivated you to become a counsellor?
I worked in primary education for 21 years and was a funeral director for 7 years; in both of these professions, I met people who were suffering and, I felt, would benefit from counselling support.  Surprisingly, much of my work is now with young people and the bereaved!
What motivates you each day?
People!  First, it's my husband, who makes an excellent breakfast; my clients and the people I 'meet' on Facebook.  Lockdown meant I reconnected with some old school friends and some of my family through the magic of Facebook.  I shared stories about my childhood on my hometown's Facebook Group and amazingly people found them interesting!  I'm a mine of information about the past (but don't ask me what I did last week).  I also scanned in lots of pictures from my photograph albums much to the delight of the people who saw themselves pop up on Facebook!  I found that it made my past come alive.
Current favourite counselling book?
Mick Cooper's "Existential Psychotherapy and Counselling"
and
Christiane Sanderson's "Counselling Skills for Working with Shame".
Why do you work with Children and Young People?
They give me hope for the future.  I am constantly amazed by the young people I work with.  They are clever, witty, articulate, open and engaging.
Favourite theorist or writer?
Dr Carl Rogers and Mick Cooper
Favourite fictional character?
Harry Potter
Favourite author?
Non-Fiction: Brene Brown
Fiction: Simon James Green (I don't read much fiction and he writes for teens!)
How has being a counsellor changed you?
I am much more assertive and confident in myself.
What would people be surprised to find out about you?
I ring church bells every Wednesday night!
Favourite song or piece of music?
Georgy Girl and Vaughan-Williams' "The Lark Ascending"
Favourite film?
Carry on Spying
What would you tell your teenage self if you could go back in time?
I was asked this many years ago by my counsellor – I think my answer is still the same – "You are going to be okay and you will be loved".