10 books to discover or re-read if you are a child and/or adolescent counsellor
CB Counsellor Training was 10 in March so based around that celebration here's 10 books Mary Clair Kelly and I would like to recommend to all C&YP Counsellors.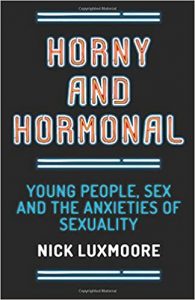 1.  Horny and Hormonal by Nick Luxmoore
No list of recommended books for Adolescent Counsellors would be complete without at least one Nick Luxmoore book and this is my favourite. One of Nick's later book, in this one, as he does in all his books, Nick makes the inaccessible accessible.
Most older teens want to talk about sensitive issues, sex, who they like, who they are currently 'talking to' (on social media) and explore the world of teenage sex and sexuality, warts and all, and bring to their counselling their enjoyment, their fears and their fantasies. Our clients need counsellors who are comfortable with and willing to engage in these conversations and knowledgeable.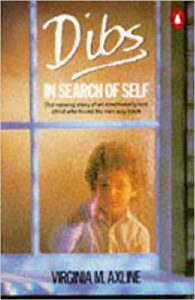 2.  Dibs: In Search of Self: Personality Development in
Play Therapy by Virginia M Axline
This book is a joy to read and learn from and I would recommend as a starting point for those wishing to understand a child and counsellor's relationship and their use of play therapy. Axline writes movingly and empathically about 'Dibs', a troubled and rejected child and shows his growth through the therapeutic relationship and play.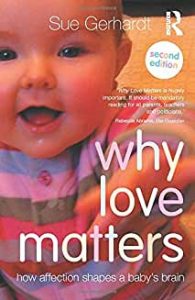 3.  Why Love Matters: How affection shapes a baby's brain Sue Gerhardt
Essential reading for counsellors and expectant or new parents this book explains the neuroscience of our early development in an accessible, engaging manner and highlights why loving relationships are essential to brain development in the early years, and how these early interactions can have lasting consequences for future emotional and physical health.
Written with a light touch Gerhardt explains complex science in an easy reading manner which has seen this book become a best seller. The book shows the wide-ranging effects of early stress on a baby or toddler's developing nervous system and explains and highlights why our C & YP clients may arrive with a range of difficulties, which have their roots in their early experiences.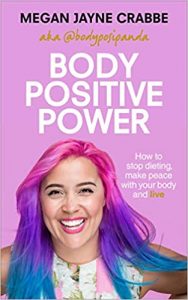 4.  Body Positive Power Megan Jayne Crabbe
(Do you love her hair? I love her hair!)
With her message of 'We are all good enough as we are' Crabbe explores the war our clients may have have fought against their body, often on an endless cycle of dieting, binging, losing and gaining weight, as she did, based on body image issues, before she found a positivity about her body and the amazing things our body can do for us.
Crabbe argues for a new way of seeing ourselves, and a world where every body is celebrated.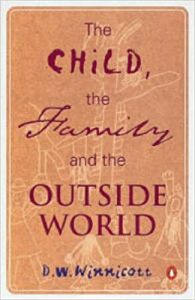 5.  Donald Winnicott The Child, the Family and the Outside World
One of the classics. Winnicott's roles as a paediatrician and then as a psychoanalyst saw him engage in pioneering research into child development. His books are warmer (and easier to read!) than those of his contemporaries in the analytical world and he made his findings accessible to the general public and was called upon by the governments of his time to educate the masses.
In this classic of child development, Winnicott explores problems of the only child, of stealing and lying, shyness, sex education in schools and the roots of aggression.
I've always loved Winnicott's phrase 'the Good Enough Mother' as it's less demoralising than his contemporaries' writings and he credits parents with knowledge and wishes to encourage their abilities.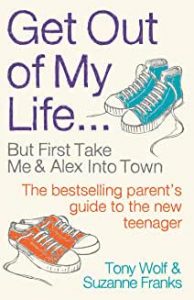 6.  Get out of My life but first take me & Alex into Town
by Tony Wolf & Suzanne Franks
Isn't that title just fab?!
This book is aimed at parents and not counsellors but is a fascinating, witty, enjoyable and insightful read. All behaviour is a communication and this book aims to help parents translate their child's behaviour into the communication.
Raising teenagers is tough work, often with little reward (at the time) so the message of this book – don't judge yourself too harshly!
I would have a read of this first and then recommend to your client's parents and carers to read before your client reaches 10 or 11, if at all possible and wait for them to email you and thank you when their child reaches adolescence!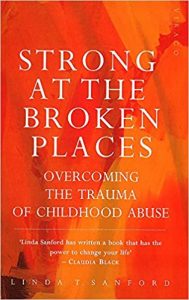 7.  Strong at the Broken Places: Overcoming the Trauma of Childhood Abuse by Linda T Sanford
This book combines dedicated research and interviews with victims of childhood abuse and neglect by psychoanalyst Sanford.
The book highlights that most survivors, in her experience, do not repeat cycles of abuse but break free from patterns of victimization and abuse and go on to lead healthy and fulfilling lives, within which they are often strongest where they have been most injured – strong at the broken places.
The book highlights that survivors can learn from and move away from their abuse to be productive, happy and connected with others.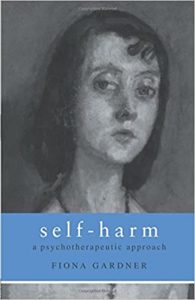 8.  Self-harm: A Psychotherapeutic Approach by Fiona Gardner
Self-harm is a complex and often misunderstood communication and a coping strategy used as a way of easing emotional suffering.
This book explores the issues involved from the perspective of a psychoanalytical psychotherapist and examines the issues through clinical material and an analysis of the social and cultural influences behind self-harm and Gardner shows her understanding and personal insight.
The book is concise, easy to understand but very informative and useful.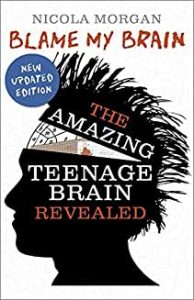 9.  Blame my Brain – The Amazing Teenage Brain Revealed
This book is aimed at teenagers, as the title suggests and my teenage clients have LOVED that title!
Also good for all C & YP Counsellors and Parents to read once the teenagers have finished learning about all the wild and radical changes going on in their brains. Those brains are super busy (even if the person looks like they are sleepy, lazy or 'can't be bothered')
The book seems well researched, accessible and is humorous in its examination of the ups and downs of the teenage brain and covers dealing with powerful emotions, the need for more sleep, the urge to take risks, the difference between genders and the reasons behind addiction or depression.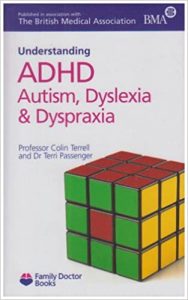 10.  ADHD, Autism, Dyslexia and Dyspraxia (Understanding) (Family Doctor Books) by Colin Terrell and Terri Passenger
This book details the four most common childhood developmental conditions. Over the last decade evidence has been growing to show that these conditions can occur within a combination of two or more of the conditions within one person or in other members of the family. For instance, you may have a client who is Autistic and their sibling is dyslexic and for these reasons all four conditions are covered in this one book.
This is a useful book to share with those clients who have been given a formal diagnosis of one or more of the conditions who want to understand their diagnosis better.